August 2019 – Experience Chiropractic, Wayne, PA & Conshohocken, PA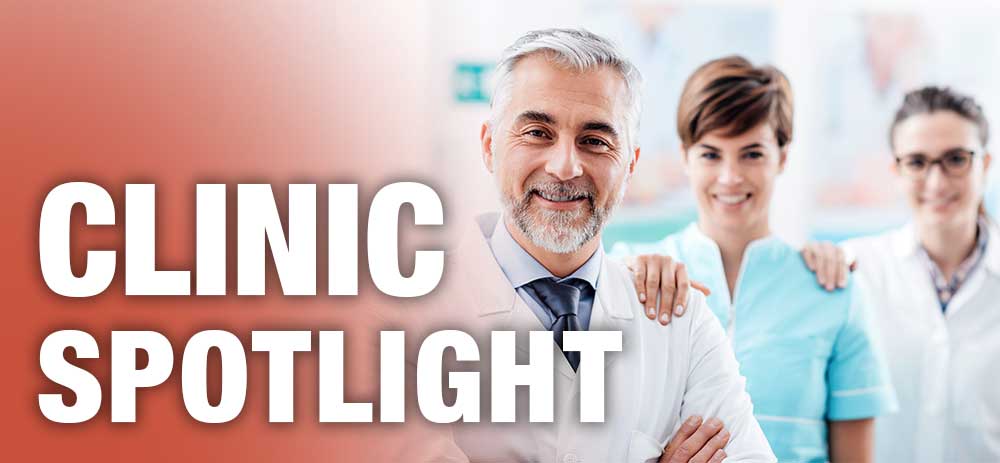 Formally known as King of Prussia Family Wellness Center, PC, Experience Chiropractic opened it's doors in 2003 providing chiropractic care, massage therapy, and rehabilitation. Started by married chiropractors, a former medical doctor from the Soviet Union and his wife, a former paramedic – their mission was simple – To provide the best care to the community of King of Prussia by offering a diversified menu of services to aid people in regaining their lives and health – in a structural way.
The center was different from the beginning. Both doctors were specially trained in sports medicine – including extremity adjusting, cutting edge modalities like the Erchonia laser and the VForce vibration therapy plate for rehabilitation and custom-made orthotic casting. Their focus was simple. They looked at the entire body as a structure instead of just a spine.
Coming from a strong medical background also makes their practice different. Drs. Nemchenko had no intentions of being chiropractors. Meeting at St. Joseph's Hospital in Lancaster, Dr. Arthur in ICU and Dr. Brandie in the Emergency Department – the couple was happily working as medical personnel. It wasn't until after they had their daughter, Alexandra in 1998 that things started to change. "After having Aly, something clicked in me. Before her, I could easily draw blood from babies and small children – and after having her – I would cry. As a mother – my heart physically hurt for them." As a paramedic – that can't happen.
After getting her cast off, Aly had a heavy limp. Dr. Brandie recalled, "I just remember people stopping us in toy stores and asking what was wrong with our daughter and why she walked like a duck." The Nemchenkos took Aly to 3 specialists with the answer only to wait until she was 4 and either rebreak her little leg – or put her in a brace.
"I was devastated because I feared it was permanent. Someone asked me after a few months if I had ever thought of taking her to a chiropractor. I told them they were nuts – what did a chiropractor have to do with a broken leg?" At that point, they were desperate.
"Arthur and I agreed to go in and just listen to the doctor – but he wasn't going to touch her." The family was met by a large jolly man who upon coming into the room, Aly teetered right to him. As they watched – he laid her across his lap and he lifted her leg up and down. He called them over to see. Her one leg was markedly longer than the other. The doctor
explained that the weight of her hip cast had cause her pelvis to misalign and he showed how the pelvis bone would make her leg appear short due to spasm in the muscles surrounding.
It seemed logical to the couple and they consented to treatment on the spot. The chiropractor placed her back on his lap – lifted her leg and did a gentle push in the area of the dimple of her back. She giggled and he placed her on the floor. Like a new little fawn – she teetered and then walked like nothing happened, normally and without limp.
"I remember he thanked us for the honor of trusting him with adjusting our child. I grabbed him and gave him a huge hug!" In the car on the way back – they decided that that is what they wanted to do. They never wanted another child and parents to go through what they had.
After the years of school, the Nemchenkos returned to the area both being awarded one of the top honors for school, the award of Clinical Excellence at Cleveland Chiropractic College in Kansas City, MO. Dr. Arthur returned first because of having credits transfer from his medical school training. He began his career at Bally's Gym at Roosevelt Blvd. Dr. Brandie finished with a extra certification by the International Chiropractic Pediatric Association and worked at Bally's and Gold's – King of Prussia.
It is this passion that they bring to practice. The Nemchenkos are voracious learners. They go to trainings monthly to learn the best to bring back to their patients. While the state only mandates 24 hours every two years – they typically log over 100 hours per year. They model their offerings for practice after Dr. Tim Maggs, and are a part of The Structural Management network. They recently have acquired an Erchonia laser and have been studying under Dr. Jeff Spencer, chiropractor for Lance Armstrong and Tiger Woods. "We want our patients to have access to the same level of care as high level athletes. While they keep famous people in the game, we want to keep people in the activities they love, whether it be adult soccer, or lifting their kids. That is just as important." says Dr. Arthur.
Dr. Brandie's patients frequently call her "Dr. House" because she won't stop until she finds a solution, finding over the years, rare tumors, Vitamin deficiencies causing neurological problems, and rare autoimmune conditions. "I approach my patients the same way I would treat a family member because we understand how frustrating that is. The benefit with consulting with us – is we know what is ours (musculoskeletal) and what isn't. We've seen it working the hospital. If we can't help you – we will literally will make the calls to escort you to someone who can." The center has an excellent reputation with local doctors and specialists and frequently receives referrals on complicated cases.
The practice has grown significantly since '03 with an exceptional amount of dedicated patients, multiple gorgeous facilities and a team of equally dedicated doctors and staff. With such drastic and exciting changes, Drs. Brandie and Arthur Nemchenko rebranded their practice which is now known and loved as Experience Chiropractic.