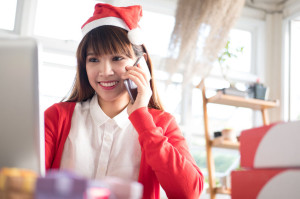 Andy Williams can sing "It's the most wonderful time of the year" 24/7 but many Americans don't share his view of the holidays. The season has its moments – sometimes, when it comes to tasty treats, too much of a good thing – but we can all use a little help in navigating our way through an endless stream of festivities.
And while your chiropractor can't guarantee you will find a Rescue Runt on the store shelves, you can leave the office better able to face what comes your way.
We don't have control over environmental or illness stresses, but a chiropractor can relieve the muscle tension triggered by emotional stress. Adjustments to the spine – and the resulting effect on the central nervous system – leads to better management of personal stress. You might not like standing in a check-out line circling into the neighboring aisles but you're more likely to laugh it off.
Good nutrition, another topic your chiropractor has probably addressed, is also key to keeping your cool. Eat a light, healthy meal before heading to a party and practice the two-bite rule – feeling satisfied after a two-bite sample of the most irresistible treats. Easier said than done, we know, as most of us gain an average of five pounds during the holidays. But it is worth the effort. (Make your chiropractor happy by getting enough sleep and staying active, too.)
If you live in the country's snow-zone, an adjustment is great at restoring your sense of balance. So do boots with a good grip. (And if you do fall, make sure, after taking care of any medical issues, to see your chiropractor about putting everything back in alignment.)
Are you having fun yet? Adopting an attitude of gratitude is a great way of recognizing what is great about the season. Take it a step further and reach out to those who are struggling their way through. Involve the kids, shopping for gifts for families who can't afford to put them under the tree or helping fill food baskets for the hungry.
Who knows? You might find yourself humming along with Andy Williams in no time!