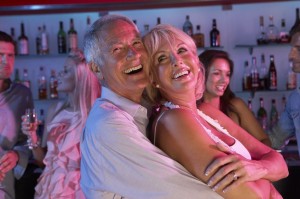 What makes our senior years some of the best in our lives?
Teaching a grandson how to put a spin on his fastball.
Heading for a girls-day-out with our best friends.
Curling up with our special someone in front of a roaring fire in our mountain getaway.
Maybe you're the kind of person that checks "all of the above." It sounds like a lot of fun, but a new body suit, called the R70i, that can simulate the changes that come with aging, is providing a reality check for many older Americans. Vision blurs as it simulates cataracts, your ears ring, and it seems as if you're walking around in concrete boots. The best of plans can start falling by the wayside as you age, even things you love doing the most.
Though you have options close at hand, particularly with geriatric chiropractic care, many older Americans never seek out a chiropractor because they don't know what to expect. Instead of sulking about what you're missing, why not learn more about the drug- and surgery-free procedures that can restore your mobility and independence?
• You probably already know where to start. Get up and move around more! Drive past the fast-food joints and instead come up with a nutritional balance of carbs, fiber, and protein. Get enough sleep, even if it means grabbing a quick afternoon nap. And know you're not in this alone. Today's chiropractors are trained to help you make the lifestyle changes needed for a long, productive life.
• Find a chiropractor you trust, either by word of mouth, a reference from your primary caregiver, or through a Google search. The benefits of chiropractic care are many, especially in restoring range of motion, mobility, and balance. Address your pain and with the appropriate adjustments, put it behind you. Invest in your future! A Canadian study found that less than five percent of seniors using chiropractic care lived in nursing homes, compared to 48 percent among those who didn't visit the chiropractor. It's time to reclaim your life!
• Get out there and enjoy yourself! Catch concerts in the park with friends. Play online mind games to recharge your brain cells. Remember that old adage, use it or lose it? Now's the time to put it practice. With your chiropractor's help, choose life!