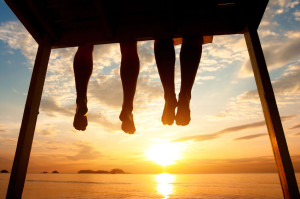 Summer will be here before we know it, and with it comes unique health considerations for mind and body.
Typically, the season is seen as a time to relax and enjoy long days of summer sun. However, most people still have to deal with jobs, budgets and the normal burdens of daily life. Summer does provide opportunities for stress relief that, depending on where you live, aren't available year round, so it's good to enjoy them! If you're into yoga, move your session outdoors for a double dose of goodness — flexibility AND fresh air. Pump up your bike tires and go for a ride. Better yet, ditch your car if you can and ride regularly to work or your friend's house. Take advantage of extended daylight hours by reading outside on your porch or in your hammock. Play in the garden, take a fishing trip, or go for a dip in the lake. All provide time to decompress and enjoy connecting with nature.
Don't just focus on mental stresses this summer. Physical concerns are serious as well and should be considered. First of all, sun exposure is an important risk to manage. Some direct sunlight is optimal, but if the situation doesn't allow for a wide brimmed hat and long sleeves, go for a water resistant, broad-spectrum sunscreen with an SPF of 30 or higher. Be sure to reapply regularly. Keep sunglasses handy to protect your eyes from the sun's rays as well. If you're out in the heat for long periods, make sure to drink plenty of water to avoid dehydration. Other things to be cautious of: fireworks injuries, bee stings, and wayward rocks from under the lawnmower!
As you enjoy summertime, stay mindful of the risks and the rewards. And if you're feeling under the weather or out of alignment, contact your chiropractor for care!