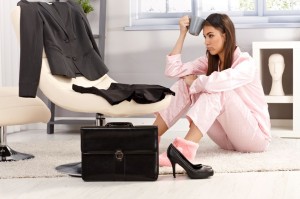 A favorite children's song comes to mind when hearing the testimonials of chiropractic care patients who experienced a successful adjustment. Like the lame man who was cured in the song Stepping Out, it's easy to imagine them "walking and leaping" and praising the chiropractor who made it all possible.
Studies prove that increased flexibility, a restored sense of balance, and a wonderful burst of energy, often follow your chiropractor's treatment plan. often follows your chiropractor's treatment plan. If you want to keep the good vibe going, you're not going to want to strap on a slinky pair of stilettos for a celebratory night on the town!
Don't panic; we're not trying to force you into your grandma's sturdy black-leather orthopedic oxfords, often paired with support hose, that could double as a knight's armor. But the kind of shoes you wear does make a difference in preventing the low back and joint pain that sent you to a chiropractor in the first place.
On the rarest of occasions, a pair of heels isn't going to kill you, but don't be so quick to write off orthopedic shoes until you check out the sandals, mules, and ballet slippers that are on the market today. But, as a rule, keep the heels at two inches or less to prevent falls and possible nerve damage.
Even more important is the support your shoes give your feet. Make sure they fit, firmly holding your foot in place without creating "hot spots" that can turn into sores. You'll want good arch support as well; consider custom-made orthotics if you're on your feet for hours at a time. Ask someone to watch you walk around and see if they can single out problems with your gait. You can also look for wear spots on your old shoes to identify trouble-spots.
Next, take your shoes off once in a while! Go barefoot, wiggle your toes, and stretch the Achilles tendon. Soak your feet in warm water and invest in a massage. When you do put shoes back on, vary the styles. Don't lock your feet into the same position every day. Finally, when you notice your shoes breaking down, toss them out!
It's important to follow your chiropractor's follow-up instructions if you're going to get the most out of your chiropractic care. Stay active, adopt a healthy diet, and practice good posture. Don't wait for problems to resurface before calling your chiropractor again, either! Talk now about scheduling a follow-up adjustment. We want you walking and leaping for a long time to come!