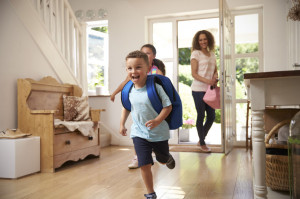 School's back in session, which is a relief to a lot of moms and dads and even some of the kids, too. They're back with their friends, practicing hard after school for the big game, holding hands in the lunch room, and rolling out the drum line for homecoming.
Many won't realize how much fun it is — despite the teen angst and homework — until they're much older. But we can do our part now to prepare them to make the most of their school days and in the process, prepare them for life.
So, quick, before the bell rings, let's get started!
Be smart
This applies to so many facets of life. But for now, we're talking about backpacks. Did you know, for starters, that backpack-related injuries led to 7,300 emergency room visits in 2016, according to the U.S. Consumer Product Safety Commission? Choose a backpack with padded straps and lumbar support, and make sure your kids wear both straps, tightened enough to position their back firmly against the backpack. And when you start filling the backpacks with school supplies, remember that it shouldn't weigh any more than 10 to 15 percent of your child's body weight. Doing it right, chiropractors say, will save them a lifetime of hurt.
Be proactive
If your children are involved in school sports, you've probably already put them through the mandatory sports physical. But take a tip from the pros and send them to the chiropractor for a preventative visit, too. Studies show that adjustments not only improve performance but also can prevent injuries. And even when something does happen, it heals quicker. There's a reason every NFL team has a chiropractor behind the scenes.
Be a parent
Electronics are a big part of education today, with some schools providing students with tablets and even replacing text books with computer software. Yet the American Heart Association recently recommended that parents limit their children's screen time to two hours a day. There are many reasons – it creates a sedentary lifestyle, leaning forward to read tablets and smartphones causes tech neck, and technology is becoming an addiction with many unhealthy effects. So, what can we do? As the AHA said, limit screen time. When they do use their electronics, make sure they are at eye level. Leaning down to read a mobile device can put 60 pounds of pressure on the neck, and that's a burden we never want our children to shoulder.
A little preparation now will go a long way in establishing healthy lifestyle habits in the future. And someday, just as with school, they'll appreciate you for it.