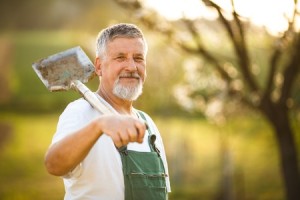 Spring may be the time many people think of gardening, but if you are an avid gardener, then you know that keeping your garden and lawn in shape takes work all year long. Gardening is a great way to get outside and get some exercise. Just remember to protect your back while you do it!
There are numerous mental and physical health benefits of working in your yard and garden. These include lowering your risk of diabetes and coronary-related diseases as well as relieving mental stress.
However, yard work can be problematic for people suffering from any sort of back pain or ailment. Thanks to the exertion required, back and shoulder injuries are actually quite common. In fact, the American Chiropractic Association (ACA) has included landscaping as one of the top 10 jobs that cause back pain.
What's the problem? All the lifting, reaching and bending that comes along with all the trimming, raking, pruning and planting can cause painful injuries to the neck and shoulders. But this doesn't mean you should forego the yard work or gardening. On the contrary, working and being outdoors will help you keep your body healthy. Just remember to protect your back as you work. The good news is that you can avoid the pain by following a few simple steps.
Always stretch before you begin any kind of work or exercise. And pay attention to your posture as you work.
Take your time. Don't try to do everything in one day. Come up with a plan and do a little bit every day. This will also allow you to relax and actually enjoy your time in the garden or yard.
Don't forget breaks. Stop regularly to relax, stretch and drink some water.