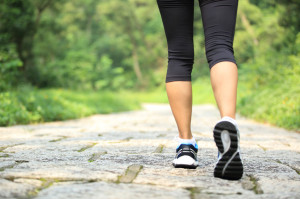 Are you putting off exercise? It's hard to get motivated to work out because it's uncomfortable, it takes time, and sometimes it can be expensive. However, when it comes to this one exercise, there really isn't any excuse not to get out and do it. We're talking about going for a walk.
While walking can take a little bit of time, it doesn't need to be a long walk in order to be effective. You can take a 15-minute walk and still reap the benefits. You can customize the exercise to fit your needs. You're unlikely to feel discomfort from walking, and it's easy on the joints. Just make sure you have the right shoes for the job… custom orthotics can be a great option!
There is a lot of value in a simple walk around the neighborhood or local hiking trail. Taking regular walks can benefit your health in many ways. It can help you keep excess weight off, which is beneficial for your joints. Walking can increase your energy levels and help you feel happier. Having more motivation and less stress is certainly better for you and results in less muscle tension. It may even reduce your risk of getting heart disease.
If you think walking doesn't sound fun enough, consider all of the different places you can go for a walk or who you can walk with. Enjoy a stroll with loved ones, go to a local trail, or explore a nearby neighborhood. Keep it interesting. It's an exercise that's totally customizable. We hope you'll enjoy this season with more walks. Now go on and get outside!