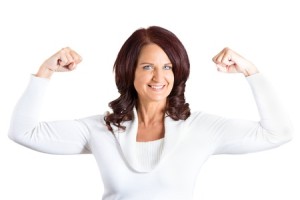 There are some key nutrients that promote healthy bones. Of course calcium and vitamin D are instrumental in this. Calcium plays an important role in keeping your bones and teeth strong, while vitamin D helps your body absorb calcium and assists with bone growth. Magnesium and potassium also play a role in bone health. If you don't get enough magnesium, your body may have an issue with vitamin D balance. Additionally, "potassium neutralizes acid in your body that can leach calcium out of your bones."
One of the ways you can get your magnesium and potassium fix is by eating a sweet potato. A medium-sized one contains "31 milligrams of magnesium and 542 milligrams of potassium." There are also plenty of other foods you can eat to promote bone health:
Dark, Leafy Greens: Many of these contain a good amount of calcium. "One cup of cooked spinach contains almost 25% of your daily calcium." Collard greens contain "268 milligrams per 1 cup cooked." This ends up being more than 25% of your daily intake. Kale contains "101 milligrams in 1 cup of raw."
Citrus fruits: While orange juice may contain very little calcium and zero vitamin D naturally, there are many brands that have added nutrition. Also, citrus fruits such as oranges and grapefruits contain vitamin C, which can help in preventing bone loss.
Dairy products: Milk is often at the top of everyone's mind when they think "bone health" — as it should be. Just "eight ounces of fat-free milk…provide you with 30% of your daily dose of calcium." You can also choose a milk brand that offers an added vitamin D boost. Yogurt is another great choice for calcium and vitamin D; however, keep in mind that Greek yogurt contains less calcium.

Dairy-free alternatives: If you'd prefer dairy-free alternatives, you're in luck. Milk made from coconuts, almonds, or soybeans are often given a nutrient boost so you don't lose out on important things like calcium and vitamin D.
Fish: Sardines, tuna, and salmon are all great options in the bone health department. Sardines have "high levels of vitamin D and calcium." Salmon is another great choice; "a 3-ounce piece of sockeye salmon contains more than 100% of your vitamin D." Tuna is also a vitamin D source; you can find 39% of your daily dose in just 3 ounces of canned tuna.