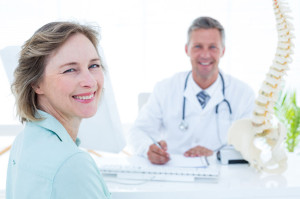 Now more than ever in modern chiropractic care's 123 year history, its ability to provide pain relief and a variety of other benefits is widely recognized by patients and peers in the healthcare industry alike. Still, as with any health professional, it's important to find the right fit as you choose a chiropractor.
Of course, at ChiroHealthUSA, we understand the importance of finding someone who makes you feel comfortable in the office setting, from discussing your problem to deciding on a course of treatment. If you're not familiar with chiropractic care, you'll want a chiropractor who listens to your concerns and takes the time to explain what to expect and why certain techniques are used.
Before you make that first appointment, here are a few tips for narrowing your choices to those most likely to meet your needs:
• Talk to friends who've sought chiropractic care. Ask about their experiences and who they might recommend. Word-of-mouth is a powerful place to begin your search.
• Use our handy Provider Search tool to find an affordable ChiroHealthUSA provider near you.
• Once you have a few names, research your choices. Look at their credentials, including their Doctor of Chiropractic degree and their state license. Look at their experience, and if they specialize in areas important to you, such as pediatrics or geriatrics. Ask about their techniques; some use quick, firm manipulation while others use a low-force technique or one that calls for special instruments. Google your favorites and read patient reviews… another good indication of what to expect.
• Find out if they accept your insurance. While most major insurance policies now cover chiropractic care, you'll want to find out if there are certain chiropractors within your network or if they require a referral for coverage.
As in any healthcare decision, making an informed choice increases your chance of having a positive outcome. With so many qualified chiropractors available, and so many good reasons to include them in your health services, you're off to a great start!