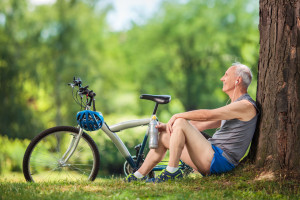 Did you know, back in 1895, what we recognize today as chiropractic care began with the restoration of a man's hearing?
As the story goes, D.D. Palmer, learning that Harvey Lillard's hearing loss started 17 years earlier with a "pop" in his back, thought the lump he found between Lillard's shoulder might have something to do with his deafness.
"I reasoned that if the vertebra was replaced, the man's hearing should be restored," Palmer later wrote, and indeed, after he "racked it into position," Lillard could hear again.
More than a hundred years later, most people associate chiropractors with the relief of back pain, and numerous studies show with good reason. Its success – eight out of 10 adults say chiropractic care can relieve back and neck pain, according to the latest Gallup-Palmer College of Chiropractic Annual Report – has put it in the spotlight as a viable alternative to the prescription painkillers at the center of the current opioid abuse crisis.
But the benefits don't stop there. From cradle to grave, your local chiropractor is trained and able to help you through so much more, combining chiropractic techniques with nutrition- and activity-based lifestyle changes.
And it's shown to brighten your mood as well. A study of 2,818 patients receiving chiropractic care found 76 percent reporting improvement in their mental and emotional state.
Here are a few other findings you might appreciate:
• Soothe your colicky baby. A clinical trial published in the Journal of Manipulative and Physiological Therapeutics found that babies treated by a chiropractor showed a 67 percent reduction in crying, opposed to 38 percent among those given anti-gas medication. Another study found 94 percent of infants showed improvement with chiropractic treatment of their colic. Pediatrics is a growing branch of chiropractic care, with chiropractors trained in a gentler, more conservative technique. (An aside: Chiropractic care during pregnancy, as model Gisele Bundchen discovered, also helps mothers prepare for an easier birth.)
• Later, as sports come into the picture, chiropractic care takes a preventive turn, improving performance while decreasing the risk of sports-related injuries. There is a reason why every NFL team has a chiropractor on staff, and it's not confined to football alone. Not the athletic type? The strain of constantly checking your mobile and electronic devices – on average, we're doing it once every 12 minutes – can bring on tech-neck. If holding your screens at eye level doesn't help, check in with your local chiropractor.
• Another growing area in chiropractic care is geriatrics, particularly in helping them regain and maintain the mobility needed to live on their own longer and enjoy an occasional romp with the grandchildren and an afternoon of gardening. Dr. Ian Coulter from the Canadian Memorial Chiropractic College in his study found during a three-year follow-up that only five percent of the seniors receiving chiropractic care were living in a nursing home, compared to 48 percent of those not seeing a chiropractor. Again, today's chiropractors are specifically trained in treating older patients, and to incorporate proper nutrition and increased activity in their program.
In short, we've got your back and much more. When you're ready to enjoy life to its fullest, find out how your local chiropractor can help.