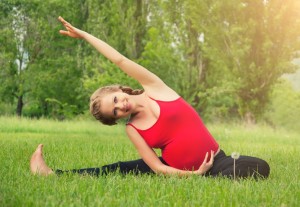 So, the pregnancy test came back with a strong positive, hopefully indicating a happy addition to your growing family. Your nights – between toilet runs – are filled with dreams of creating the perfect nursery and your days, wondering how you will bring it all together in only nine months.
Soon enough, you'll realize the renovations your incredible body is making, preparing a safe haven for this little being who will soon turn your life upside-down. And your chiropractor can help you through the changes, from the nausea that often comes in the first trimester to the ease of delivery when you finally meet your little one, face to face.
Victoria's Secret model Gisele Bundchen, whose husband Tom Brady says chiropractic care helped him in his legendary football career, says care she received while pregnant for her son Benjamin led to a birth "that wasn't painful, not even a little bit," she has said. "I wanted to be conscious and present for what was happening … I wanted to feel."
The American Pregnancy Association is another proponent of chiropractic care during pregnancy, noting the specialized training today's chiropractors receive in their post-graduate studies and even custom tables built to accommodate mothers-to-be during their treatments. (And if you're looking for more advanced training, look for a DACCP, CACCP or a membership in ICPA reflecting special interest in pregnancy.)
Here's what else you can expect:
• Fifty percent of pregnant women experience low back pain during their pregnancy and that number can move up to 75 percent during labor and delivery, reported the U.S. National Library of Medicine and the National Institutes of Health. It makes sense, as the weight of the growing baby pulls the abdomen forward, that more pressure is put on the spine. By keeping it in alignment, you not only ease the pain but you also give the baby more room to develop and settle into the pelvis when it nears delivery.
• Today's chiropractors do much more than adjust the spine. In the process, you will learn more about proper nutrition, the need to catch up on sleep while you still can and stretching exercises that will strengthen your supporting ligaments. It all makes a difference on the big day.
• First-time mothers undergoing chiropractic care often cut their labor time by 24 percent, and that number increases to 39 percent with subsequent births. An aligned pelvis leads to less breech presentations and cesarean births and, as Bundchen will tell you, less pain.
• And don't forget to stop by for a post-natal adjustment, realigning your spine to its pre-pregnancy form and addressing the strain on the middle back that comes with nursing your newborn.
In other words, your chiropractor has your back. Include one in your pre-natal team and make this an experience you'll treasure for a lifetime!