The opioid crisis has hit a new record high in the United States with deaths estimated at 65,000 in 2016.
In response to this crisis and in an effort to help consumers choose chiropractic care as the first-line option for drug-free pain management, the Foundation for Chiropractic Progress has designated September as "Drug Free-Pain Management Awareness Month."
The Foundation is launching a public-facing social media campaign called #N410 asking people to donate just $10 to the cause and share their personal stories about how opioid addiction has affected their lives. To donate, click here, and share your story on social media with the hashtag #N410.
Officially recognized by the Society for Healthcare Strategy & Market Development (SHSMD) on the American Hospital Association official health care calendar, the nationwide campaign is raising public awareness of chiropractic care as a safe and effective approach to the management of low back, neck and neuro-musculoskeletal pain.
This awareness campaign is especially timely: according to the Centers for Disease Control and Prevention (CDC), 91 Americans die every day from an opioid overdose. For many, this downward spiral began with doctors prescribing prescription painkillers like oxycodone, hydrocodone, and methadone.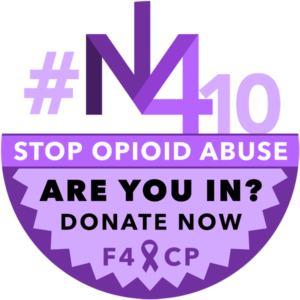 "This epidemic affects all of us in one way or another. Every day that a new prescription is written or refilled for opioids, the potential for addiction or an overdose grows," says Sherry McAllister, DC, executive vice president, F4CP. "Doctors of chiropractic nationwide are dedicated to offering Americans drug-free care that is proven to be safe and effective. Now is the time for action and to help save lives."
The month-long series of nationwide activities and media events will provide education and information to the public, state legislators, health care professionals and health plan decision-makers.
F4CP will be kicking off a six-part webinar series designed to inform doctors of chiropractic on various pain management topics. Each webinar will be hosted by premiere corporate partners – ChiroHealthUSA, NCMIC, Standard Process, Performance Health, Chirotouch, and Foot Levelers.
To register for a webinar, click on the following webinars below:
The Foundation will also be distributing several press releases throughout the month which highlight the value of chiropractic for seniors, athletes, pregnant women, pediatrics, military veterans, and other pain sufferers.
"Chiropractic care saved my life," says Drug-Free Pain Management Awareness Month Honorary Chairperson, Retired Brig. General Rebecca Halstead, who turned to chiropractic care after being diagnosed with chronic fibromyalgia (FM) in 2005.
"After returning from my tour in Iraq, the pain was unmanageable. The military's solution was prescribing multiple prescription medications. I refused and sought other solutions—like chiropractic care—that managed my pain and gave me a reason to live again," she says.
Please share our consumer-focused website with your audiences to educate them on drug-free pain management options: www.drugfreepaincare.org.